There has been robust growth in digital payments after demonetization. People now prefer digital payments over cash. This shift from a cash-oriented economy to the cashless economy has created a need for an easy, simple and hassle-free medium to collect digital payments for small and big merchants.
For small merchants and home-based business that does not have an e-commerce website, needed a solution where they could collect online payments, manage their transactions and grow their sales volume. To make it a piece of cake for such merchants who want to collect online payments without a website, PayKun Payment Link is what they need.
Payment links are web links that provides safe and secure transactions between buyer and seller. Customers can click the link to make online payments with multiple payment options. Merchants can create a customised check out page by uploading their company logo and changing the colour that suits the theme of their company.
Let's take a look at how do payment links work.
Generate payment links:
Create a payment link from PayKun dashboard or mobile app to pay an individual or in bulk. Enter the amount to be paid, customer details like name, email and mobile number. You can also set an expiry date of the link.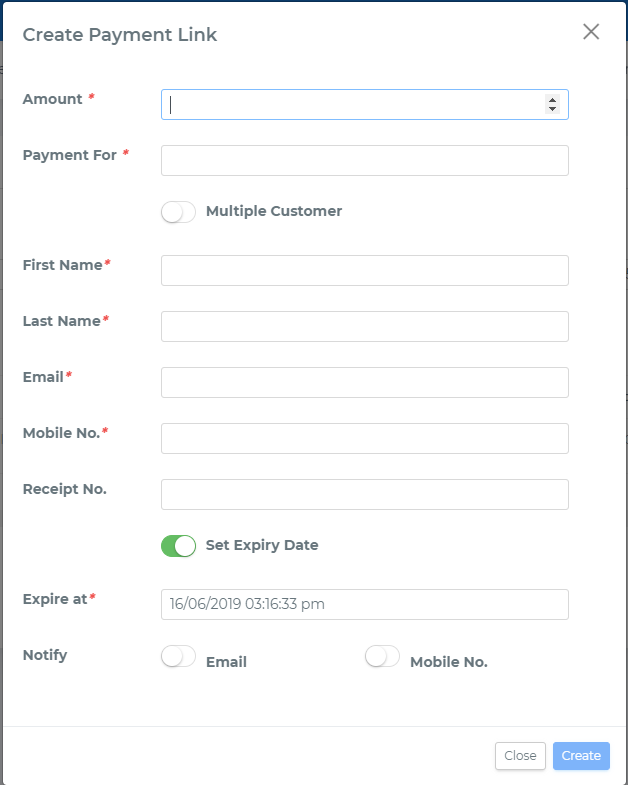 Share payment links:
Copy the link from the dashboard and share the link via text, email or social media platforms like Facebook, Whatsapp, Messenger, etc.
Get paid instantly:
Collect your payment instantly with multiple payment modes like debit, credit card, net banking, UPI, wallets and QR code.
Try the demo link: https://paykun.in/5TdQ1CK
Let's see a few use cases where payment links can be a good fit:
Small business:
Small merchants like a tutor, astrologer, health consultant, etc that do not own a website but still wish to collect online payment can make the best use of payment links for accepting payments.
Social media stores:
Many home-based businesses sell their products using Whatsapp, Facebook and Instagram.
The payment link is the easiest option to collect payment from the buyer as it can be shared on all social media platforms. It also builds credibility among buyers that they are performing the transaction in a secure environment.
Shopping stores:
Payment links can be useful to shopping stores do not have access to swipe machine or when they want to collect a B2B payment digitally. It is a great alternative for cash on delivery and point-of-sales.
Accepting digital payment has never been this easy. You are just a link away to collect your payment. Start to collect your online payment now by registering your account with PayKun: https://dashboard.paykun.com/register