The idea of multiple payment gateways is more than rewarding for businesses willing to offer unparalleled customer experience. Since not all payment gateways function effectively in all geographies, multiple payment gateways ensure that customers have access to swift transaction processing and an improved checkout experience.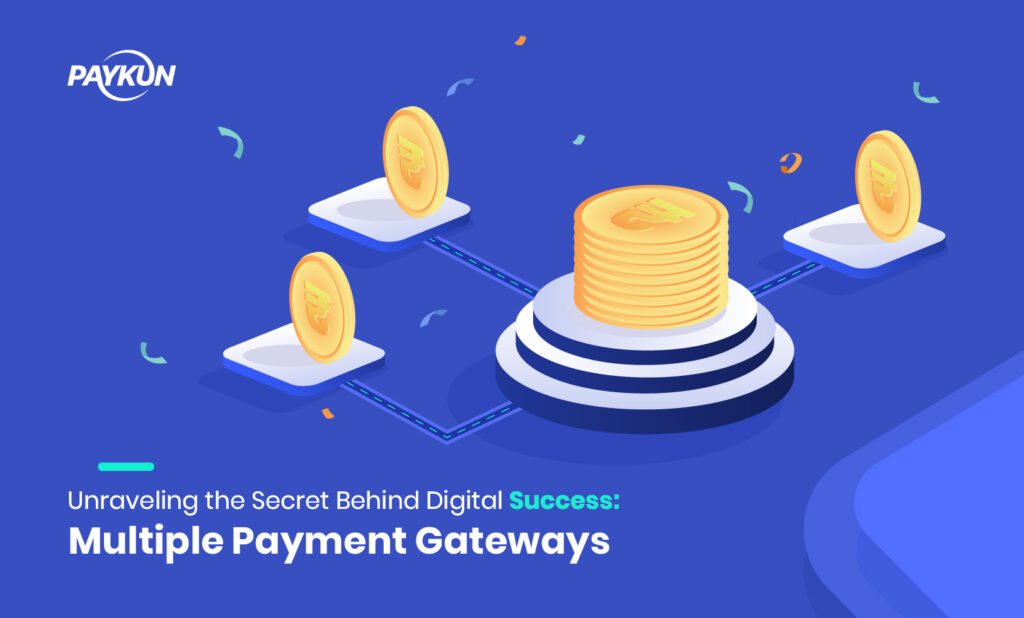 What do multiple payment gateways mean?
Before understanding the concept of multiple payment gateways, let us discuss the basic concepts first.
A payment gateway is a software that enables merchants to accept and authorize online payments. Online businesses are turning to the cheapest payment gateways intending to provide customers with a better checkout experience, promoting a switch to a cashless economy.
Multiple payment gateways mean one merchant offering various payment gateways on their checkout page. According to surveys, multiple payment gateways are likely to increase the trust of customers, keeping them come back to the business. It also improves the likelihood of successful transactions.
What's more? Multiple payment gateways enable merchants to route transactions optimally, which could result in successful transactions across multiple markets.
They can be integrated into a website in two different ways:
Integrating multiple payment gateways immediately
Integrating multiple payment gateways and routing them selectively
Benefits of having multiple payment gateways
A customer is less likely to proceed with the transaction if he or she is unaware of the payment gateway brand. This means the cart abandonment rate is expected to increase, limiting the opportunity to make a bond with customers. Therefore, multiple payment gateways are intended to improve customers' trust and, thereby increasing conversion rates.

Increases the number of international sales
Selling international customers undoubtedly improves your business's bottom line, improving its geographical coverage.
Around 40% of customers, according to surveys, have reported a lack of preferred payment options on eCommerce websites. Therefore, enabling multiple currency options on the checkout page can work in your best interest, solving the issue altogether.
With an eCommerce website, businesses can sell to anyone irrespective of geographic location restrictions. However, the difference in currencies could pose a significant threat. A single payment gateway may not be enough to process online payments from multiple countries.
It is best for merchants to enable multiple payment gateways in order to collect payments from international customers smoothly.
Online transactions may be a victim of technical failures. Payment gateways may cease to process online payments due to sales rush. In these scenarios, consumers are likely to crawl to another seller to purchase their preferred product. This is where multiple payment gateways come in handy for businesses as they work as an emergency backup. This means you can avoid such scenarios where your customers are bound to make the purchase on your site.
Access to analytical data
Payment gateways are designed to provide different kinds of information to the seller to improve customers' checkout experience and sales. Based on the analytical data, you can make an educated choice about your business.
Multiple payment gateways offer multiple features. Therefore, you cannot expect to get all the elements in one payment gateway. For example, some gateways do not accept a few brand cards, while other offer monthly subscriptions.
Your conversion rate could be compromised if customers do not find the features they are seeking. In addition, due to a lack of payment mode, the cart abandonment rate gets increases.
Fortunately, by integrating multiple payment gateways, you can offer payment flexibility to customers, letting them make the purchase without a doubt.
Offering multiple payment methods
Offering more than one payment method to your customers can only improve sales. However, payment choices vary from one customer to another. Some want to use internet banking, while others may find UPI more feasible for making the purchase. This is why you may want to choose a payment gateway that offers more than one payment method. In India, UPI seems to be the most desired payment mode with about 40% market share.
A mobile-friendly solution
These days, customers rely on smartphones when it comes to online shopping. In addition, they tend to use their smartphones to make payments online. This is why it makes sense that you choose multiple payment gateways like PayKun, which is mobile-friendly. This means you have a better opportunity to grab customers' attention and improve sales.
How does PayKun answer all your questions?
A good payment gateway like PayKun improves customers' loyalty and builds a brand. PayKun, being a leading fintech player in India, can be a lifesaver for your business. Whether you have an online website or not, PayKun offers you the opportunity to provide your customers with multiple payment methods, making it easier for them to make online payments and increasing your revenue.
If you are interested in taking the big step and starting your journey with us, do not hesitate to contact our customer support team now.