From clothes to jewellery and furniture, people wait for Diwali to bring changes in their house and purchase their needs as well as luxuries. So, it is a very crucial time for all kinds of businesses and they need to be prepared well in advance so that they can meet the expectations and demands of their customers at peak times.
This article will discuss various tips for businesses (especially small businesses) for this festive season. The given list of tips can help you strategize your business activities and resultantly boost your business sales. It will give you confidence and a strong path to walk on and bend your business activities accordingly this Diwali.
Strategies, Planning, and Preparation
It is evident that the businesses are not formed overnight, it requires plenty of planning and preparation related to the products and marketing and forming the strategies. You may concentrate on the 4 Ps which is also the Marketing mix of Reliance Industries: Place, Price, Products, and Promotion.
As per your business history, you may make certain arrangements related to all kinds of activities related to estimating the required inventory, buying or manufacturing the inventory, listing the available products, managing sales, and distribution, staff management, etc.
Festivals are the best time for eCommerce startups to book their place in the market and also create a strong customer base. And listing the products at a lower price than your competitors may provide additional help in creating this base.
You can start with one product or service and once you have made your place, you can expand it into various categories from groceries to fashion step-by-step. A related example can be taken of Flipkart. It first started with selling the Books and then expanded into various other categories.
Another creative idea would be to collaborate with other sellers or brands. For example, if you are selling clothes then you may get together with the brand or seller of the next item that a customer would buy such as jewellery, makeup, etc. You need not have to handle or manage the selling of the items with which you collaborated but at the same time, you are providing the customers with different categories to purchase.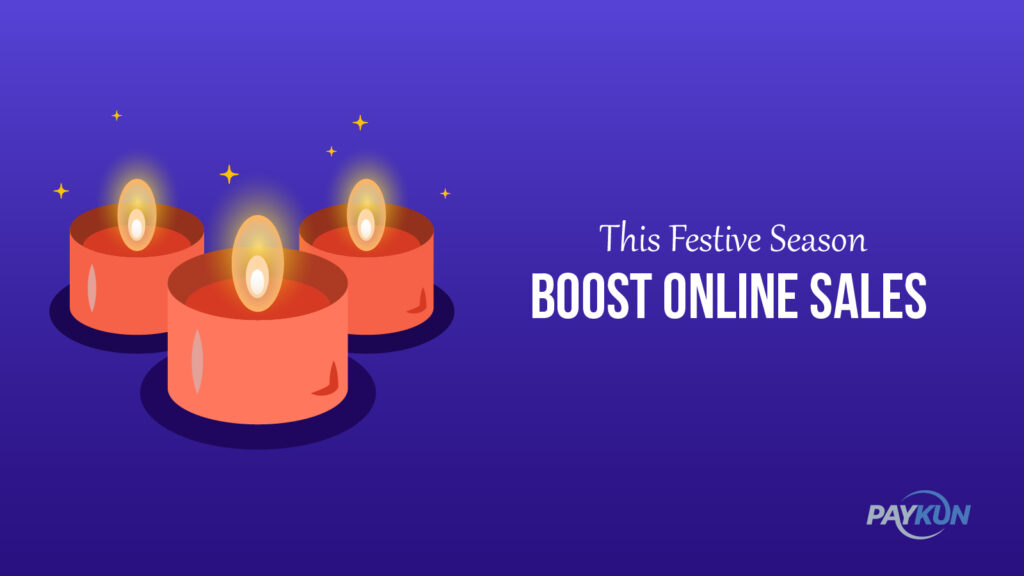 Marketing and Advertising
The startups and small businesses generally have a tight budget to spend. Or even if they have enough budget they must work smartly in spending that on marketing and advertising of their business.
The word of mouth marketing is the most effective one. As per a study by Spiegel, 95% of customers read reviews before they purchase. As per BrightLocal, 93% of customers would determine the quality of local businesses by reading reviews. There are various such statistics available showing the customer's actions depend upon the reviews by the other customers.
Thus, customer satisfaction should be the topmost priority and business mantra. It is the most significant marketing medium for your business. The customer's issues and complaints in reviews, social media, etc should be resolved quickly. Also, after-sales services should be in place. Repeating what I earlier said, festival time is the most important time to create a loyal customer base.
It would also be a great idea to put fliers in the newspapers in your city. Other crucial marketing mediums would be Television, Magazines, Radio, and the most important Social Media Platforms like Facebook, Instagram, Twitter, and YouTube.
Reach out to your audience with your brand, attractive offers, discounts, etc. Create a strong social media networking. The campaigns on social media should make it easily reachable to your shopping place with links, swipe ups, etc. Use current trends or memes as marketing campaigns and also make your network participate in exciting polls, contests and quizzes, giving out a small surprise gift in the end to the winners.
India is a mobile-first country. Each and every type of person has a mobile phone here, thus digital channel marketing would eventually make an impact on your targeted customers.
You can have your Youtube Channel. If your budget allows you may go a step further and indulge in Influencer marketing. You may get different slogans for different campaigns, for example, the fashion segment of Flipkart is called "India ka Fashion Capital".
SEO (Search Engine Optimization) and Google Ad-words should be wisely used for online marketing to have an impactful reach in the internet world. Keywords should not be wasted and should target what you have to offer, in terms of Sale, discount, Coupons, safe delivery, etc. One of the most effective ways is publishing blogs and articles, stories of your customer experience, and posting testimonials. You may also introduce your new products in this manner.
You may create interesting videos and post them as a vlog or on your website, for example, a model/person wearing a complete look of ethnic products available on your website.
You may run the Donation Campaigns which will help society and also provide a positive impact on your business.
The marketing terms – call to action (CTA) means the next step that a marketer wants its customer to take. For example: Add to Cart, Checkout, Buy Now, Access Coupon, Redeem Coupon, etc. Such terms should be readily available for action for the customers to take on the website.
Easy Checkout and Cart Abandonment Solutions
As per a study conducted by Baymard, 37% of potential customers abandoned the cart because the website asked them to create an account. Other reasons for the cart abandonment are extra costs (60%), long checkout process (28%), Order cost not clear up-front (23%), errors in the website (20%), the site could not be trusted with credit card information (19%), slow delivery (18%), not satisfied with returns policy (11%), credit card declined (4%). The customers abandon the cart because of the non-availability of the payment option.
Thus, you may provide an option to your customers to log in as a guest and make a purchase. The checkout should request the minimum and essential details only. Further, make sure that the technology is used to the optimum and the technical errors are solved beforehand. The festivals may increase the traffic causing slowness.
There are so many payment options available and preferred by the customers, thus, a payment gateway like PayKun should be integrated so that the customer can get their desired option to make the payment.
Indians have trust issues when they decide to deal with the Internet. If it is your startup or small business newly established then along with the online payment options you may keep 'cash-on-delivery' option so that they can shop with confidence.
Statistics show that the users of smartphones could reach 859 million by 2022. The delivery of Smartphones increased by 8% year over year and in 2019 it reached 152.5 million units, bringing it under the fastest growing market in the world among the top 20 smartphone markets. Further, the E-commerce sector could go up by 1,200% by 2026.
This shows the importance of mobile business. As mentioned earlier, India is a mobile-first country and so you must have an easily accessible website on the phone as well as may have a full-fledged app. An effective SEO can be obtained when you have an optimum website which is good on mobile and could be browsed quickly.
For any kind of business, especially for the startups; the primary focus should be – "the customer comes first". This is significant to widen the customer base. It can be a part of your strategy to create an emotional and social connection with your potential customers this festival. The return of loyal customers is guaranteed if they find the price, quality, and after-sales support in their favor; and the interesting deals on the regular basis are also essential. Delivering what is promised is very important to earn customer loyalty.
You may provide the facilities like call-to-order phone number, WhatsApp orders, different payment options, etc. The customer faces various kinds of fears such as they fear that they will get the wrong product, the solution can be a replacement and return guarantee; fear of providing the card details on the website, for this you can provide other payment options including the Cash on Delivery; etc.
Offers, Discounts, and Coupons
Festival shopping is all about discounts and Sales. Thus the customers would be looking for the best deal for themselves which is pocket friendly and provides the best savings. As displayed earlier, the internet has provided wide access and innumerable options to the customers so they can always choose next. The following things can attract them on Festivals and on normal days too:
Limited time offers/coupons – creates urgency
First-time Coupon – for new customers
Buy one Get one Offers
Next Purchase Coupon/Discount – encourages them to purchase again and to reward them for their loyalty and encourage them to stay permanent.
Conclusion-
Thus, you may grab this opportunity and make a place in the market by following important tips for this festive season. These points can also be helpful during the normal course of your business in case it is a little late for Diwali and you are planning your future startup.
In case, you have not thought about going online, you should consider it now after reading my upcoming blog on The Importance of Ecommerce Business this Festival