We strive to deliver the best end-to-end online payments services to make it smooth and hassle-free for our merchants and their businesses. Our objective is to empower them resulting in their growth with our seamless payments for their business. This section on our blog page would give the amazing merchant stories, their journey, and their experience with PayKun Payment Gateway. In this piece, we bring you the next success story of our valued merchant 'MyFanTeam'.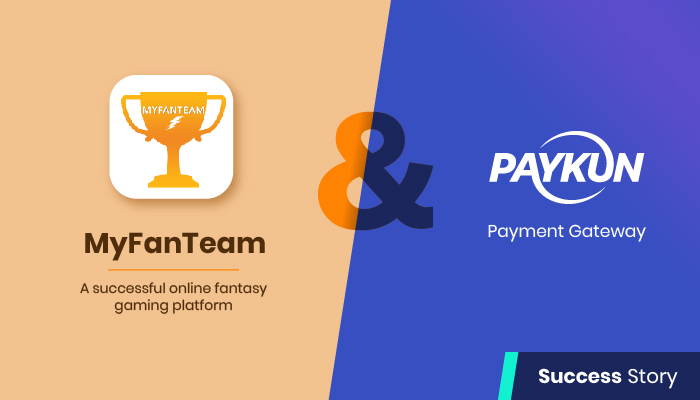 The merchant story to inspire you…
MyFanTeam is an online fantasy cricket game. Mr. Ravinder Choudhary, the cofounder of MyFanTeam shares his success story and the journey with us.
About MyFanTeam – How was it started? What does it offer?
As we all know, online gaming is a booming industry today. With various online games emerging, people find their entertainment in them and get some fun in their stressful lives. MyFanTeam is such a popular skill-based gaming platform that started in 2019.
Cricket is the favorite game of the Indians and with the fantasy cricket games gaining popularity, Ravinder with his co-founders came up with the idea of creating MyFanTeam. Initially, they started by introducing the paid contests entries in the fantasy game in India for cricket fans.
"PayKun takes the shortest time in account activation, the account gets activated within about 4 hours and the payment settlement of PayKun is also completed within T+1 means 24 hours except for festivals and holidays."
– Ravinder Choudhary (Co-founder – MyFanTeam Fantasy)
MyFanTeam Fantasy is a 5 player Batting or Bowling Fantasy website that offers the players to use their skills in real-time cricket matches and to win a huge amount of real cash. It is simple and easy to play cricket fantasy using your skill. Almost all the upcoming leagues are available in MyFanTeam, including the names of the biggest leagues of India like the Indian Premier League, Caribbean Premier League, etc.
Why is MyFanTeam different from all other fantasy platforms?
"In MyFanTeam you can add money from any payment mode to play because it has a secure and trustable gateway, PayKun. With PayKun you will get all the payment modes here." Ravinder says.
Also, it has a completely different points system compared to other platforms. You are given different and easy ways to withdraw such as Paytm, bank, UPI, and others.
Further, there is an important note to remember: This game involves an element of financial risk and may be addictive. Please play responsibly at your own risk. The game is applicable for people above 18 only.
Every business faces some challenges, what did MyFanTeam face?
In March 2020, almost all gaming activities were closed for a few months due to Covid-19. During that time, cricket and related activities were also completely stopped. Due to this, they had to face many problems. But with the gaming activities getting normal, they recovered the same.
Experience sharing from MyFanTeam for PayKun Payment Gateway…
Ravinder says and it is quite evident that a Payment gateway is necessary for the success of any online business. They found PayKun as the best, easy, and most helpful gateway for themselves.
How MyFanTeam and PayKun Payment Gateway make a great Team…
Speaking about PayKun and his business payments, Ravinder said, "I got almost all payment options with the PayKun payment gateway, including Paytm wallet. And help support is also good with them because they provide email, chat as well as call support."
He continued and said, "As a merchant of PayKun Payment Gateway as well as the owner of the fantasy website, so far my experience has been the best with PayKun. We have faced a lot of issues with other payment gateways such as too many Failed payments, a lot of time taken in the settlements, no Call support, more than 24 hours taken to resolve any issue, absence of wallet option in the payment modes, and so on…"
Summarising their overall experience, he said, "I would like to tell all of you that if you want to start a business then the best option in the payment gateway will be PayKun. All in all, my experience so far with PayKun has been very good, especially their help support, their support team is always available."
Thanks a lot, Mr. Ravinder for your kind feedback.
What does the future hold for MyFanTeam?
In the upcoming times, myfanteam.com will launch a new playing mode that will be completely different from any fantasy cricket game but at this time users can play in the concept of 5 players.
How to choose the best payment gateway for your Gaming Platforms?
Parting words-
Various Startups, SMEs, and Large enterprises are processing their online payments with the PayKun Merchant Account. Many have chosen PayKun for its Partner program. Various features such as smooth online payments, excellent support services, affordable transaction discount rates, the lucrative commission in the partner program, etc, are the reason for the happy merchant stories and their positive experience. We would like to add yours too, come sign up with PayKun and accept online payments with us. We promise to serve you the best.