A payment gateway in the tourism business would need to be chosen carefully and wisely taking care of various essential points. The main reason for using a payment gateway for a travel industry is that it is secured and provides multiple payment methods.
Travels and the tourism industry is one of the dominant industries in India. People travel for various reasons and purposes such as work, leisure, sports, religious, international, cruises, medical, wellness, adventure, eco-tourism, film, and rural tourism. Domestic and International tourists travel for spiritual and religious motives.
As per IBEF reports, the total contribution by the travel and tourism sector to India's GDP is expected to increase from Rs 15.24 lakh crore (US$ 234.03 billion) in 2017 to Rs 32.05 lakh crore (US$ 492.21 billion) in 2028. Total earnings from the sector in India is targeted to reach US$ 50 billion by 2022.
COVID-19 has brought a halt in traveling worldwide, but of course, this is a temporary situation and soon people will get used to the new normal. As a fact, nothing can stop wanderlust beings on Earth. As a travel agency or company, it is important to have an online payment system for your business since the face of the business operations have changed from being offline to online or semi-online.
Reasons for using a Payment Gateway
While making payment for bookings or tickets and packages, the tourists would only rely on a secure and easy payment medium. Payment Gateway provides an option to pay with the preferred payment method. Also, they get a notification and payment status as soon as the payment is made. This way the travel company can immediately reach out to them acknowledging the payment received and the services for which the payment is made.
Time is of the essence in this industry and payment gateway allows the tourists to make the payment whenever they want and from wherever they want.
Choosing a Travel Industry Payment Gateway
It is necessary to consider various aspects before selecting and installing a payment gateway for your travel and tourism company or agency. It needs to consider security, cost, movement of funds, etc. Let us discuss the significant ones in details below –
Security
For the customers, funds and data security is a major concern. It is important for them that sensitive data is not misused or leaked. PCI DSS is the important security standard and the highest one to be followed by the card payment processing mediums.
Pricing
International and domestic pricing plans need to be affordable. Various payment gateway options are available but what is necessary that it provides the best services as well as the best rates. Also, there are payment gateways like PayKun that do not charge any extra fees such as set-up, maintenance, or any hidden fees.
Payment Methods
With various online payment options available, the customers would expect to pay with their preferred ones. So it is necessary that the payment gateway that you choose provides various trending and required payment method options in a secured manner.
Currencies
The payment gateway should also be supporting all the major currencies and countries' payments if you are providing the services worldwide.
Onboarding Process
The registration and setting up with the payment gateway should be easy and simple. Various payment gateways provide the total online registration process and the account is activated in no time just after a pre-required verification of the necessary basic details and documents.
Integration and Payment Links
It should provide easy integration options and simple set-up methods. Also, various major platforms need to be supported for websites as well as a mobile application. In case, you need to collect the payments directly without a website or app then the payment gateway needs to provide the Payment Link feature.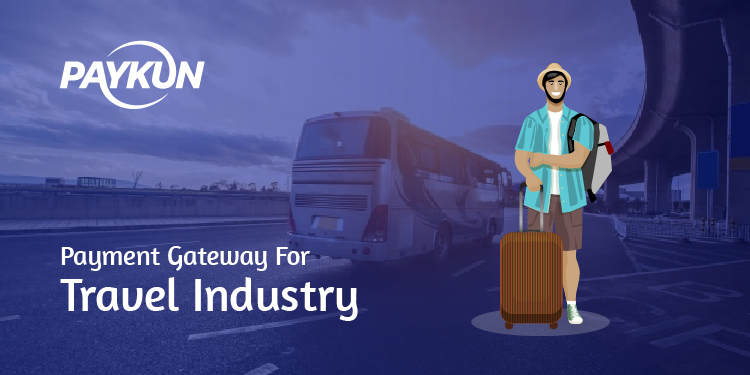 PayKun Payment Gateway
PayKun is a preferred travel industry payment gateway. It is a PCI DSS compliant. It provides the lowest domestic transaction rate (TDR) and affordable international pricing plans supporting 29+ international currencies and all major countries. PayKun provides fast settlement options too from t + 1 to 3 working days.
It also supports all major payment options such as credit cards, debit cards, wallets, net banking, UPI, etc. Also, supports all the major integration platforms such as PHP, Magento, Android, iOS, WordPress, Python, .Net, Node JS, Java, WHMCS, Prestashop, Opencart, etc. These plugins and SDKs are available online for free, which can be integrated after the easy onboarding process and account activation. PayKun provides free integration assistance too.
It also provides the payment links feature with which you do not need a website or app. It can be copied pasted and sent through any possible medium like WhatsApp, email, etc.
The smart merchant dashboard of PayKun provides a lot of assistance with the transaction and payment analysis and graphical representation. It provides transaction details, settlement reports, customer and order details, various types of settings, etc.
It provides chat, call, email, and Whatsapp support, having a dedicated and very responsive team, ready to resolve queries, concerns, or issues as soon as possible. You may inquire now for the payment gateway for your travel business at [email protected].