Coronavirus and Society
As I write this article, India has confirmed 29435 Cases of Coronavirus and 934 Deaths due to it. We can witness the breakdown of the economic activities like never before due to COVID-19 widespread global impact and it can be a threat to the mere existence of the human lives if the national guidelines are ignored for social distancing and strict lockdown rules are not followed. Being at home has become quite a compulsion and you are literally doing a favor to yourself and to the whole of the country.
The surviving has become very difficult for many classes of people in spite of some government efforts and help. The pandemic has become a global challenge for humanity and its survival. Being at very high risk and a serious danger to the lives all over the planet.
Coronavirus and Business
Amidst this humanitarian and societal desolation lies the threat to the various areas of the many business survival too. However, it need not be totally gloomy and all depressing for most of the businesses. What is needed is a change in traditional methods of functioning and improvising with the situation. Human has had natural survival instincts since primitive times due to life-threatening environment then. That is still there and can be effectively applied in today's way of working too.
According to a Statista survey conducted to understand the impact of the coronavirus on Indian startups and SMEs, a majority of respondents stated that it would have an impact. About 41 percent of respondents felt that it would affect both demand and supply and 30 percent of people said it would lower the demand for their products or services due to COVID-19.
PayKun Payment Gateway can be a part of your improvised methods of working. The COVID-19 pandemic crisis is not for the time being or the short term. It will have a long-lasting impact on working style, supply chains, selling methods, payments, etc. Working from home combined with the office depending on the nature of business and the relevant skills required can be empowered by technology, data, security, and digital payment methods. Social distancing will be a thing for a long period of time. Matters have changed maybe forever, the experience of being a customer and seller expect to see permanent behaviour change.
Well, some areas of business are benefitting and some are definitely on the downside during this lockdown. But what matters the most is picking up when you have the chance to with the renewed methods and changes. With a business continuity plan foreseeing the future and working on how you can overcome and also help others to overcome.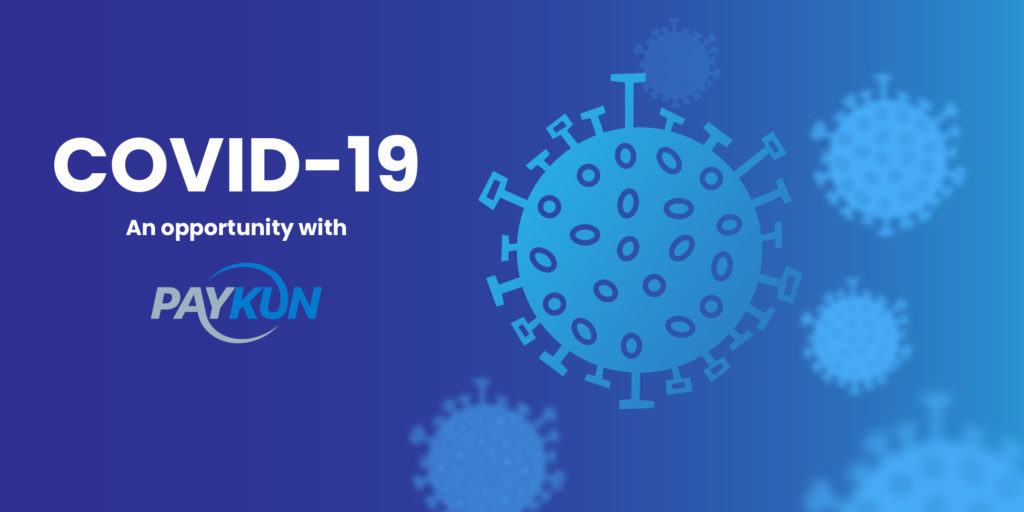 Coronavirus and Customer
People in common and as a customer, there is a grave impact and the buying methods have changed in the majority of the public. eCommerce is the top priority and with it, the businesses are benefitting. According to the general fear of humans, everything carries an invisible threat today. There are trust issues and social distancing and no contact rule is what will save them from this threat.
They have shifted to the virtual way and activities for anything and everything. The adoption of the digital way of life is accelerated and expanded. New buying behaviours are forming that are likely to remain after the crisis has passed and this presents opportunities. For example, Lockdown is on and the Pizza and other restaurants introduced zero contact delivery options. Jiomart has been introduced facilitating delivery from other retailers at competitive rates.
This is the trust-building time for the sellers and service providers as the customers are looking with new expectations. Reputation with a reputed payment partner is everything today.
More than 50% of consumers prefer live contact support; when customers are not able to see you face to face, they need a point of contact. Most Responsive PayKun Support team with your own customer support can be your face.
If the business can see these aspects today then they get guaranteed, long term customers.
Coronavirus and PayKun
As mentioned before a lot are suffering in this crisis causing a humanitarian crisis. Poor and the daily-wage workers are not getting a one-time meal. There are registered NGOs and trusts that are willing to help out. PayKun provides a payment gateway to collect donations for such organizations. Apart from that, various other small and large businesses going digital and the ones that are already digitally working can easily collect payments in a secure manner with PayKun Payment Gateway.
The Education Institutes have adopted a new way of admissions and online teaching and can efficiently collect fees online through various payment methods with PayKun. Online eCommerce and Food deliveries can make sure Zero Contact Deliveries through PayKun Payment Gateway and Payment Links. Offline stores and supermarkets can further ensure the same with PayKun. The work from home personnel, freelancers, entrepreneurs can collect online payments in an easy manner with no need for physical contact at all.
120+ payment methods provided
The customers would be offered multiple payment methods including debit cards, credit cards, wallets, net banking, UPI, QR code, etc. This would further boost the reputation of the business due to the positive image of the payment partner. This is very important because more payment options mean the positive relation and integration with multiple financial institutes and facilitators. This will boost the confidence of the customers to pay and avoid the dropouts.
Smart Merchant Dashboard
This will save ample of time wasted on the tracking and analysis of the sales and payments received. PayKun dashboard shows graphical comparison and analytical representation of transactions, payment methods, and mediums helping further to plan, manage, and administer the business payments received through PayKun, from the comfort of your home. Other functions like settlements, different types of reports, refunds, customer data, orders, etc can efficiently be handled from the dashboard itself.
Lowest Transaction Rates
You can receive the domestic payments at the cheapest rates in the market and also receive the international payments that too at the most affordable pricing. There are no setup or maintenance fees or any hidden charges for domestic and global merchant accounts.
Payment Links and Master Links
If you do not have a website or app, then you can simply use payment links from the dashboard itself. It just needs to be copied, pasted and sent through any possible medium like email or WhatsApp. Master links are similar to it but it provides the option to the customer to enter amount and purpose.
Integrations
The easy to integrate plugins and SDKs of all major platforms are available. Also, PayKun provides free integration services with robust technical support. It can be integrated with websites as well as apps. So, if you have a genuine business or cause for collecting payment, boost your income now with PayKun payment gateway. Convert this crisis into opportunity and partner with PayKun; together to defeat the severe economical disruption.