The current digital world demands all kinds of businesses to provide digital payment options to their customers. To keep up with the competition and keep the business up-to-date as per the prevailing methods and the system, it needs to provide all sorts of payment methods and so that the customers are able to pay with their preferred option.
As per the statistics provided by the Statista, "the total transaction value in the Digital Payments segment amounts to $81,197m in 2020. Total transaction value is expected to show an annual growth rate (CAGR 2020-2023) of 18.3% resulting in the total amount of $134,588m by 2023. The total users of digital payments are (2020) 553.7m" This shows the prevailing upward trends of how much digital payment system has covered the market.
It might be possible that if the customer does not find his favored option, he might back-out from paying. Or, there may be another issue, wherein the customer might drop out because of some issue in one payment option. For example, there is downtime or error or the payments are getting failed in one method, the customer can switch to another one. This will save from the potential dropout.
By this, it means, that it is always good if you have multiple payment methods offered at your checkout. This can be made possible with the partnership with an ideal online payment gateway solutions Paykun. The reasons to choose PayKun as a Payments Partner to your business are as follows:
● Smooth Onboarding
For sure, the registration process is smooth and simple. The onboarding specialists team at PayKun has been trained to make sure that only the genuine merchants' accounts are activated with a view to providing a safe and trustworthy payment environment. You are contacted within a working day of registration. It provides a fast and easy process, which requires only KYC basic documents and bank details for the account activation.
● Secured and Reputed
When the money is in question there is always a fear of theft and fraud. With all the cyber crimes prevailing, the businesses are always worried about their customers and themselves for the hacking of the sensitive data and funds itself. With PayKun it is impossible to steal because of its strict security compliances. It is PCI DSS Level 1 compliant and following AES 256 bit Encryption standards. Also, it is SSL certified. In a very short period of time, it has gained a lot of popularity and trust because of its fast yet strict onboarding process. So, any fraudsters would not be able to cheat their customers. All these aspects provide the customer with confidence to pay, that they are paying through a safe gateway; which is in a way beneficial to genuine businesses.
Its buyer and seller protection make the trust stronger which is tackled by the dedicated Dispute team at PayKun.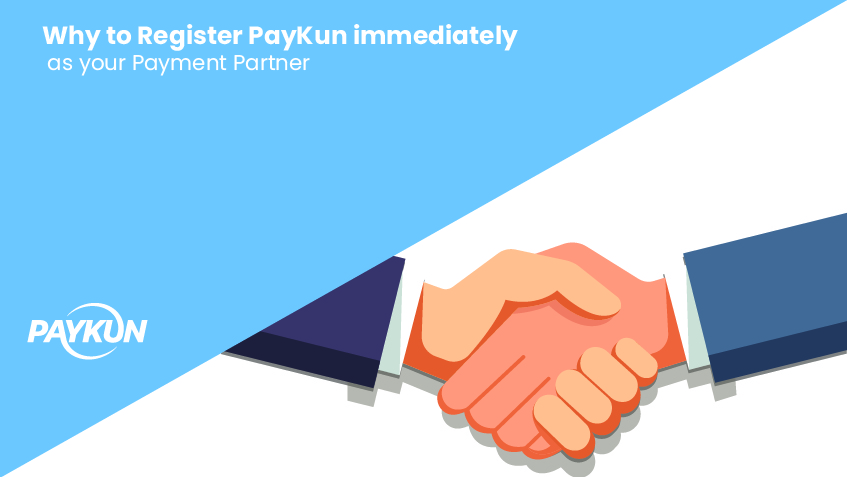 ● Modern Technology
The online payment gateway technology of PayKun has been designed to provide a seamless experience with the easy and smooth UI. The checkout process is simple yet advanced. It provides 120+ payment options including all the payment methods like debit cards, credit cards, wallets, net banking, UPI, BHIM, QR code, etc.
● Integrate and/or use payment links
You can use it as an eCommerce payment gateway, payment button or simply its payment links. It has simple ready to integrate free plugins and SDKs available supporting all major platforms. Also, the merchant can avail of free integration services from PayKun. Its payment links and master links do not require a website or app. They can be simply copied, pasted and sent through any possible mediums like WhatsApp, Emails, etc.
● Lowest Pricing
It charges among the cheapest rates in all the payment gateways in India. Also, there is no setup fee or maintenance fee. You only pay when there is a transaction otherwise no charges or fees are levied on your account. Furthermore, there is no hidden fee charged.
● Smart Dashboard
It is built to help the merchant to track and administer the online transactions through PayKun.
From the settlements to refunds and handling the transaction history, customers, etc can be done in one place. The Test Mode is essential to use before one decides to register so the Sandbox is accessible just after signing up. Also, the payment links and master links can be created from the dashboard itself.
● Interact with our very responsive team
Activation of account, technical assistance or any other general queries and even after that, the merchant would require someone to speak to and get help from. As your Payment Partner, PayKun understands the merchant needs and has a very responsive support team, to provide the assistance at each and every step.
Each merchant has an assigned Account Manager, who is responsible and available for any possible requirement from the merchant side. For the technical support and queries, you can directly reach [email protected]. And for the general queries, we have our chat, email and call support active and responsive.
Final Notes:
So, if you are in search of a payment gateway service provider in India, you need not waste your time and spend unreasonably when such an affordable solution is available. Get a cost-effective payment gateway providing the optimum services. You may sign up for free at once with PayKun and get your merchant account activated.