A payment gateway in eCommerce website plays an important role. It makes the whole process of an eCommerce selling complete with the final step i.e. payments.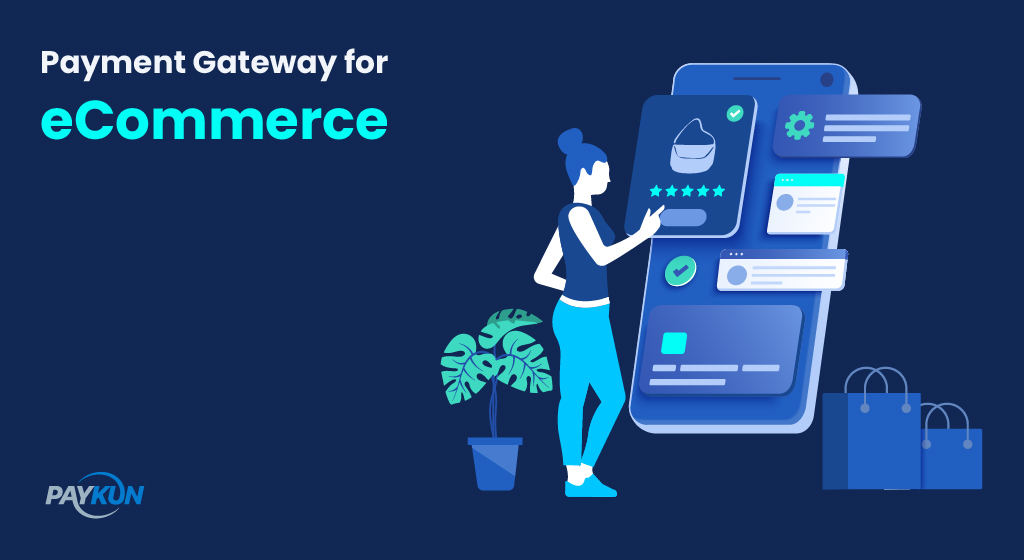 What is an eCommerce payment gateway?
A payment gateway provides an infrastructure through which payment processing from the customer's bank to the merchant's bank takes place.
Due to the increasing digital penetration and online purchase trends, it is necessary to facilitate the customers with the different online payment methods on your business website and with a secure solution for the same. And the best method for this is to integrate a payment gateway in eCommerce.
For the step by step process to know how the payment processing takes place i.e. how a payment gateway works: Must Read
Benefits of a payment gateway in eCommerce
It is inevitable to integrate the payment gateway in an eCommerce website or mobile application. Along with being a necessity, it also has a lot of benefits, such as:
Payments are directly received in the bank account with no hassles of cash management and calculations.
A payment gateway brings down the administrative expenses due to the total online records and processing.
Accounting becomes easy due to all records available beforehand with no scope for errors.
It makes the 24⨯7⨯365 selling possible and can reach out to international customers.
When the customers can pay with their preferred payment option from the multiple available options, the cart abandonment reduces due to that reason.
The order tracking, analyzing, and management also becomes hassle-free.
The right payment gateway will provide the secure processing of the payments.
The online payment automation with the right eCommerce payment gateway like PayKun enables all of these and more.
PayKun Payment Gateway for eCommerce in India
After knowing the meaning and the benefits, here's the information about PayKun as your eCommerce Payment Gateway.
Cost of using payment gateway
Before anything else considering the payment gateway fees and other charges are of utmost importance.
You need not pay more than required and when such an affordable solution is available.
PayKun has the lowest transaction charges (TDR) of flat 1.75%. It is cost-effective with a great quality of services. You will be charged for the successful transactions only.
The setup fee and maintenance charges are zero, and there is free integration assistance provided
Technical aspects
You need not worry about the technical aspects when using PayKun.
Yes, a payment gateway in eCommerce is to be integrated with your website or application but it is not a matter of concern when using PayKun.
The ready SDKs and libraries for multiple platforms of Website, eCommerce, and mobile application make this task very easy and this is also backed by the developer-friendly ready technical documentation.
The list of supported platforms is given below-
PHP
Python
Net
JS Checkout
Java
Node JS
Android
iOS
OpenCart
PrestaShop
WHMCS Integration
WordPress_V4.x_Donation
WooCommerce
Magento
Our technical team also provides assistance related to the integration.
Preferred Payment Methods
Payment gateways are means to let your customers pay online. With so many options available the preferred payment method of different customers would be different.
Payment gateways help you meet this requirement and provides the below payment methods to accept online payments.
Credit Card and Debit Cards
Netbanking
UPI
Mobile Wallets
Single-QR code
EMI
Your global customers can make smooth card payments. PayKun supports multiple currencies for international transactions.
Security of the payment processing
Online threats are real and so making sure that your online payment gateway is secure should be among the primary concerns on your list.
It is important to know that any security glitch would affect your reputation and customer's trust both.
PayKun is PCI DSS Level 1 compliant that provides the highest level of security for card payment processing.
Apart from that, it follows AES encryption standards and also has SSL certification.
Social Commerce
Apart from having a website or mobile application, another impacting business model is social commerce.
When the selling is done on social media platforms such as Instagram, Facebook, etc, it is known as Social Commerce.
The payment links of the PayKun payment gateway can be used to accept online payments through social messengers such as Whatsapp, Instagram DM, Facebook messenger, email, etc.
Payment functions, Tracking, Analysis and Refunds
PayKun merchant dashboard is a very useful tool of payment gateway in eCommerce.
It provides –
Analysis and graphical representation of the transactions (filterable).
The records of the transaction, settlements, orders, customers, etc.
Creating, copying, and sharing the payment links.
Initiating the partial or full refund of the transaction.
Creating the payment button code without any technical knowledge requirements.
Various account details, settings, and reporting.
Getting an eCommerce Merchant account
It is a simple and basic process to register a merchant account with PayKun.
One needs to sign up with their required details and documents. The basic list would be as follows:
Business ID Proof – GST Certificate (three pages)/ CIN certificate / Udhyog Aadhar / Shop Act License / IT Return (any one)
PAN Card
Both sides of a scanned color copy of Aadhaar Card / Voter ID / Driving license (any one)
For the individuals and the freelancers, there is an easy suitable process.
You may get registered first and our team shall guide you further on the same.
Smooth checkout
One of the important required features of a payment gateway in eCommerce is to give a smooth checkout experience.
PayKun provides a high transaction success rate, clear failure message, payment retry option, and various payment method alternatives.
The customers get a friendly and smooth checkout experience.
The color and the logo can also be set as per your brand and required look.
Support services
PayKun provides world-class customer support through call, email, and live chat.
A dedicated account manager is assigned to each activated merchant account and he will be your one point of contact.
Conclusion
Integrating the PayKun payment gateway in the eCommerce website would be the most ideal way of accepting payments due to its above-mentioned features. Apart from these, it has buyer and seller protection programs and fraud prevention measures to try to prevent fraud and for dispute resolution.