UPI just got better! At MeitY Start-up Summit, the Ministry of Education and IT introduced new functionalities in UPI BHIM 2.0 for small businesses along with other new initiatives and programs.
Launched in 2016, UPI is an instant real-time payment system developed by the National Payments Corporation of India (NPCI) facilitating inter-bank transactions. UPI has become a popular online payment option among people as it is mobile-based, 24X7 accessible, secure, and fast.
The new features focus on making BHIM 2.0 business-friendly.
New features of BHIM 2.0
The increased transaction limit for a high transaction value
Donation gateway for NGOs using UPI ID
Merchant offers
Making payments for IPO using UPI ID
Linking of multiple accounts
Gifting money
Added three languages – Haryanvi, Bhojpuri and Konkani (Currently there are only 13 languages)
What BHIM 2.0 offer?
Linking Over-Draft Account on UPI:
Earlier we could only link and make payments from our savings account. But with overdraft accounts, the merchant will be able to withdraw money even if there is a zero balance. With this feature, the merchants get a digital channel to access an overdraft account.
Mandate:
Mandate feature allows you to pre-authorise a transaction which will be debited later from your bank account. In simple words, it means that you are telling your bank that a certain amount has to be debited on a particular date. This amount will mandatorily get debited on that date.
UPI Mandate is mostly used in scenarios where the money has to be transferred later but the commitment has to be done now. Once the mandate is executed, the customer's account will get debited. This feature is mostly used in filling IPOs, cab booking services and hotel bookings.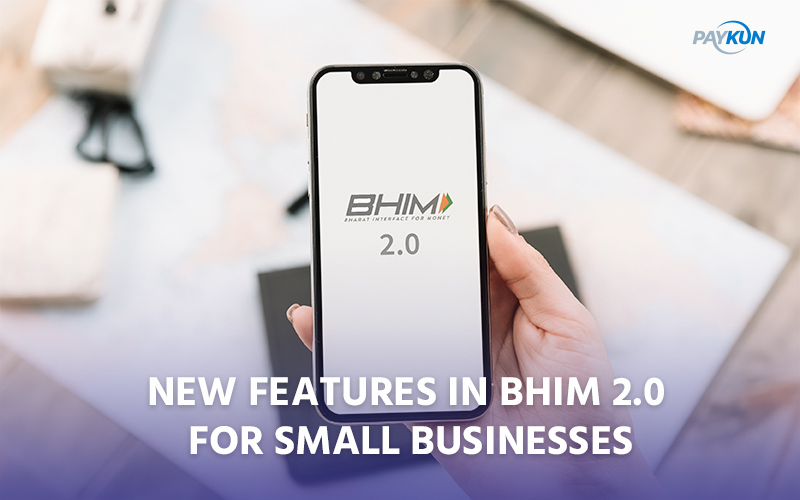 Invoice in the box (View and Pay):
Earlier when someone sent you a collect request, you could only verify the amount that you have to pay before entering the password. With Invoice and Pay feature, you can verify the Invoice; confirm merchant details, date and amount. Once you have verified, you can proceed to pay.
Signed Intent and QR:
Using this feature, the customers can check authenticity while scanning the QR code of the merchant. It lets you know if the merchant is a UPI verified merchant or not. This ensures additional security to the customers. Here the transactions can be done faster as the UPI app password will not be required.
Ever since the UPI has been launched, it has transformed the way people make payments. It has truly helped India in making a cashless-economy. Tea stalls, grocery stores, small shops, malls everywhere you can see QR codes. It is expected to grow massively in the next five years.
At PayKun, we support all UPI modes including BHIM. To use UPI payment modes on your websites, you can simply register your merchant account with PayKun and go live within a few minutes.