PayKun payment gateway has been proud of the journeys of our entrepreneurs with their innovative and unique business models and also to be part of their journeys with our best possible services. In these modern times, when there are so many methods and techniques marketed for Health and fitness, so many videos guides, and types of diets available, let us know our merchant success story of Krishna Vaidya, the diet, wellness, health, and fitness consultant based in Vadodara, Gujarat, who has been successfully running her diet clinic solving major health and lifestyle issues of the people in the easiest and right manner.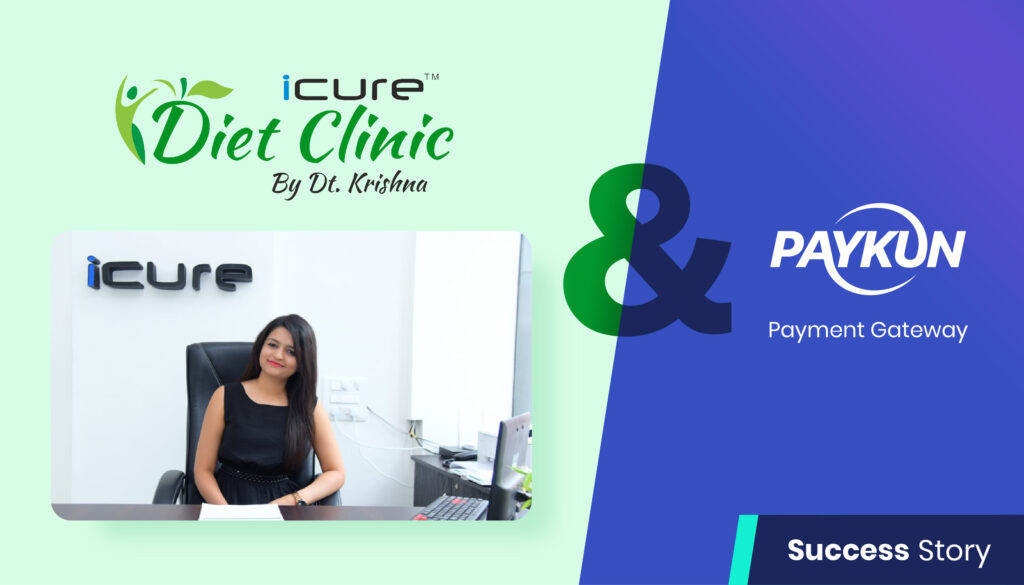 Check out the below interview in which Dietician Krishna Vaidya shares with us her story of iCure Diet Clinic, her struggles in starting this business, and her experience with PayKun Payment Gateway.
"Excellent, great services so far… Quick responses from the team.."
– Dt. Krishna Vaidya, Founder at iCure Diet Clinic, about PayKun
The start of iCure Clinic – ideas and inspiration to start the clinic
I was working as a pharmacist in a government hospital. During those times, I realized that medicine is not an answer to all health problems. The actual answer is food habits and lifestyle modification.
And later my husband inspired me to quit my government job and pursue my dream of starting my own business and spread good health and related awareness.
I started by making the videos on health because I wanted to spread awareness and break the myths about weight and fitness.
How is iCure Clinic making a difference?
It is not about just weight but our main focus is how a person can manage his weight and get rid of all the lifestyle disorders like diabetes, hypertension, PCOS, hypothyroidism, etc, by changing his/her food habits and overall lifestyle. No pill, No Shakes, and No Starvation…
"Processing international transactions is very easy with PayKun and also very less conversion charges and fees are charged compared to other payment gateways"
So we are working on the people's good health by working on their food and lifestyle and not by any unnecessary mediums which are not only ineffective but wrong methods too.
What are the services provided?
We include the services such as weight loss, PCOD management, Thyroid Management, Diabetes management, Diet for gut health, Diet for fatty liver, Diet for High Cholesterol, and High BP.
The difficulties and struggles in doing the business
There have been multiple difficulties, and the primary one was financial.
I am from a middle-class family and my father is the primary teacher. There was no family finance or business knowledge to start and run a business. The family was also job-oriented. It was a huge issue to break this chain and to get enough money to start a business.
The initial investment was for the basic light set up to shoot the videos. Whatever was earned by doing the freelancing work that was invested in my first clinic, for which I was struggling to make even a signboard. Slowly and gradually, I overcame this problem.
Another struggle was to break the myths of the people who always want the shortcut and look for some magical weight loss pill to get rid of all their problems. It was a big challenge to convince them that actually, the basic food is their medicine.
The Turning point
The turning point was when the people actually started believing in me and my 'no medicine and the only food is your medicine' method. The mouth-to-mouth publicity helped me to grow my business and now I am getting clients from India and all over the world.
With this, I started using the online transaction mode for accepting payments.
Experience with PayKun Payment Gateway
PayKun has been providing services so far. The responses from the support team and our account manager have been very quick.
We use their international services too, for which they provided easy activation. The payments processing is very smooth and without any hassles.
The international transaction is easy with PayKun, also very less conversion charges and fees are charged compared to other payment gateways.
Concluding
So, we can see how Krishna broke all the stereotypes, overcame all the challenges, and came up with a growing successful business. We are glad that you are happy with the PayKun services and also that we are part of your journey.