Have you just started your own online business and do not have a proper eCommerce website yet? Thinking about getting payments from the customers who are not staying locally and cannot pay you hand to hand? Most entrepreneurs or start-up businesses look for payment options that they feel are secure and reliable. If you are not thinking of establishing your eCommerce store currently but have started to sell your items globally, choose payment links. Yes, they are the best to get instant payments to your account by just clicking on the link.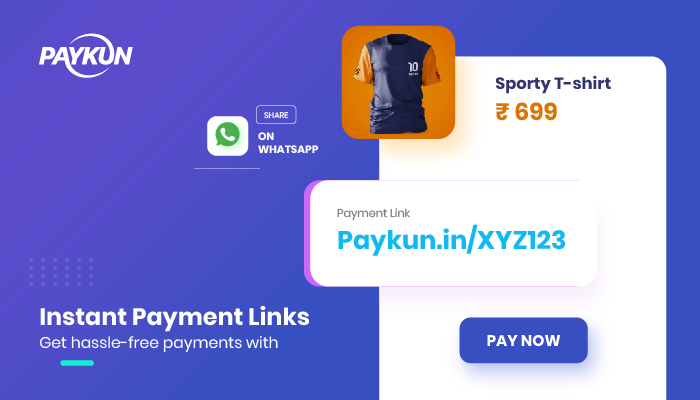 Collecting payments in a hassle-free manner is now possible with the payment links, an innovation of payment gateway. Let us explore the details on the subject and find out how this unique feature can be great leverage for you as a business owner.
You Can Start Getting Payments without a Proper Ecommerce Website
As said earlier, if you do not have any properly established website but still want to transact with your customers, you can easily do it with the help of payment links. The process is just so simple. There is no complicated step involved and no maintenance charges as well; you can create the payment link and send it to the customer via email, WhatsApp, or SMS. 
As the customer receives the link, they will click the link and make the payment. Both will get instant notifications of successful payment too. The procedure is simple and can be done by anyone. Do not worry about how you can take payments for items that you sell globally. No matter where the customers are, you can easily send those links and instant transactions. 
Link Sharing Is Better Than Account Sharing
Often, you feel unsafe to share your account details with the customers or anyone around. So, do not worry now! You can easily share the links to the customers via email, messages, or WhatsApp to get money. So, sharing the link is safe and secured, and you do not have to put your account at risk. 
Get Payments By Sharing QR Codes
Till now, you have scanned the QR code at stores and made the payments, but with a payment gateway like PayKun, the added benefit is that you can get payments by sharing the QR Code with your customers. The auto-generated QR Code is easy to scan, and the payment can be made in an instant. 
What Makes Payment Link Better Than Others?
We all know that there are several payment links available by different payment gateway in India, but what makes PayKun's Payment Link the best one? It has several features and easy steps that make it one of the most preferred payment links for small businesses and start-ups like you. 
The Steps To Follow For Payment Link Creation-
First, you should visit the PayKun dashboard; from here, you can generate the payment link for further transaction
Share the link over email, WhatsApp, and other platforms
Customer after receiving the link, start to pay
Payment is made successfully, and both sides will get notifications. 
There are no set-up charges and no maintenance fee.
Besides, Payment links, PayKun also comes up with various new features that you will never find anywhere. For example, as a small business owner, you can create a payment button of your choice and place it on your eCommerce website. The digital payment solution helps generate embedded code of the payment button that you can easily place on the blog or the website by simply copying and pasting the code. The best thing about the payment button is that you get the privilege to design the button as per your choice from the dashboard.
With the payment button, you will no further receive the annoying redirects. The customer can now complete the payment process in just one page, without any annoying redirects to a different page. The added benefit is that you can customize the UI of the button with text, color, and style. So, what are you thinking? If you want to give a unique user experience to your customer, choose PayKun as your trusted payment gateway. 
Dashboard Features
Want to manage sales and check out the overall transaction occurring through this payment gateway? Check the Dashboard feature of PayKun. You can easily track the sales with the powerful dashboard. Here, you can get a complete insight into your business with reporting, charts, and analytics. With the hassle-free dashboard, you can reduce issues and also increase business revenue. 
Transaction Management: Here, you can manage transactions, refunds, settlements, and disputes directly from the dashboard.
Settlement: The settlement of money is faster than ever with Paykan. You can now receive payments in less than three days directly in the bank account.
Powerful Report: From the dashboard, you can now generate various reports and get insight into the transactions, peak business hours, and success rate.
Managing Customers– from the dashboard, you can get various tools that will help you to manage the customers. For example, you can identify the customer who has made the maximum payment and who is unique. You can also send them mail directly from the dashboard.
PayKun is helping start-ups and small businesses grow. Still, it also helps the commerce store, entertainment industry, and the gaming sector develop a hassle-free payment procedure that is versatile on all platforms. So, whether you are having an eCommerce store, a gaming platform, or an entertainment channel owner, you can now easily make payments with effortless payment links, and QR codes. 
What Makes PayKun The Trusted Payment Gateway?
We have no maintenance fee
No service charges
Payment is made in the bank within three days
TDR is less than 1.75%
So, manage your online business seamlessly with an effective, easy handle, and customized payment gateway and get money transacted into your account in just three days without any hassle. This seamless and simple transaction process can thus be the table-turner for your business.