It is important to get a payment gateway that suits your requirements and at the same time is ideal for your business
Having an online payment processor for your business has a lot of benefits. It enables you to collect online payments in an easy way and with multiple payment methods. It also enables you to receive in the trending contactless manner – the social distancing way. This way you or your customer will not need to get in contact with any medium like cash, POS Machine, etc.
However, you have to be quite careful before choosing one or more payment gateway options for you or your business. Various aspects need to be considered before and after signing up for a merchant account.
Here we shall discuss what mistakes you can avoid beforehand before registering for the merchant account services for any payment processor. Or in case, you have already opted for the one you can beware and take care of these to make sure you are safe.
1. Required Payment Options Not Available
Why are you getting a payment gateway in the first place? The first reason that you are getting one is to collect payment digitally from any place in the world and to provide services to your target place. The second most important reason is that it provides multiple payment method options so that your customer can pay with their preferred method and he does not drop out without paying due to the lack of options.
Thus, before you decide to spend your time in signing up, registering, and getting the merchant account activated with the payment gateway, you must inquire about the payment methods they provide, such as the debit/credit cards they support, wallets integrated, UPI options, etc. They also have the demo payment link that will give you an idea about their checkout. To be further sure, you may access their test mode even before registering with the details and documents. You may check PayKun for how this option can be accessed.
2. Settlement Regularities
Reserve Bank of India has certain requirements with regard to the settlements and at the same time, it is necessary for the payment processor to handle them to make sure and control the fraudulent merchants. However, there are various reasons and very obvious that you need to have access to your money as soon as you can such as the regular flow of money in your business, the cycle of purchase and sale to continue, etc.
So, let yourself know what settlement cycle they can provide you. Transaction date plus 3 working days is an ideal settlement cycle provided and allowed maximum by the payment processors. There are gateways that provide customized options based on a few aspects and decrease the settlement cycles.
3. Forgetting that Support Services of Various Kinds would be required
Yes, you will need support services to set up, integrate, and know about the payment gateway processes. That is after-merchant account activation services.
It is about your money, the delayed and improper or the worst no responses would affect your business processes. So it is required that you have the payment gateway account providing the best customer service. There needs to be a proper Sales Support, technical department, general information support, which should be easy to reach out. For example, PayKun provides call, email, chat, and WhatsApp support to its clients and customers both.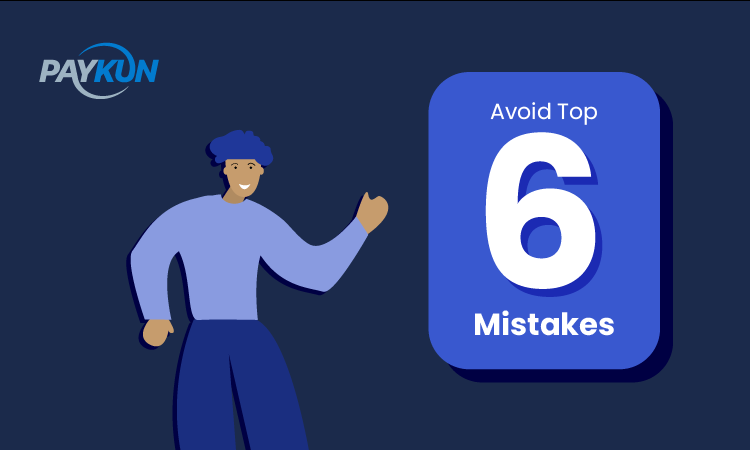 4. Not Having a Clear Picture About Fees and Charges
Yes, many payment gateways might display the least transaction rates but would charge other fees providing various reasons with no relation to the transactions. You can call them the hidden fees or the name-less charges.
Also, what they might do is apply a setup and integration charge and/or the maintenance fees. These can be clarified beforehand while making the inquiry with the payment gateway. Also, you may carefully go through the terms and conditions. Further, keep a lookout for the hidden charges between the report figures.
5. Security and protection against Frauds are at stake.
Under online payment processing, there is always a fear of getting defrauded, it can be in the form of hacking of the sensitive information at the checkout or the buyer being a fraud. The reputation of the business and its credibility depends on these aspects. Not only that, but the risk of getting hacked and your funds can also get stolen. Also, there needs to be an arrangement with the payment gateway and the bankside to have the authentication process from for the customers making payments. Mostly the acquiring bank plays this role.
There are various inquiries that you can make to know about this, such as, if they are following Payment Card Industry Data Security Standards and AES Encryption Standards. SSL Certified makes the website and server connection secure. A Dispute Center would act as the chargeback resolution center between the buyer and the seller.
Apart from that, you would have submitted various data related to your business and also your personal documents, so it needs to be made sure that they are safe with the payment processor system.
6. Platform Not Support for Integration
It is essential that your website/application platform is supported by the payment gateway you are thinking to sign up with. So you may inquire about it before proceeding with the whole registration process.
If your business does not have a website or mobile application then you might need other options such as payment links, thus, as per your medium of business, you may get the clarification.
Conclusion-
All in all, learn to ask the question to the payment gateway such as –
Transaction Discount rate
Payment method-wise any different charges
Setup Fees
Integration Charges
Maintenance Fees
Payment Methods (Credit Cards, Wallets, UPI, etc)
Settlement Cycle
Terms and Conditions
Dispute Center Functionality
Any Refund Fees
How much the time is taken to process payments into the account
Support Medium provided (call, email, chat, and WhatsApp)
Data Security and fraud protection services
PCI DSS compliance and other security standards
Guarantee about hidden fees
Platforms supported for the website or app integration
If required – payment links feature available or not