Online payment is the new trending system in B2B companies. They have been opting for the B2B payment gateways available in India as a preferential mode of the payment system in their businesses. This includes all their regular operations and daily activities.
B2B Payments in India are exponentially done through various payment gateway modes facilitated by the B2B Payment gateway solutions from India. This is a significant change for them considering the two major events, that is, demonetization and COVID 19. The drawbacks of cash and cheques are being overwritten by the payment gateways of India.
Types of B2B Payments
Before we know the importance of using B2B payment gateways let us understand the types of payments that are received by these companies. The examples of a B2B business include wholesaling, commercial property selling or construction, etc. Thus the types of B2B payments can include many things, it can be Bulk Payments as well as small payments depending upon the type of transactions.
The traditional method of payments such as cash and cheque have been replaced by the B2B payment gateways and services related to it because of its multiple payment methods transaction facility and various other reasons.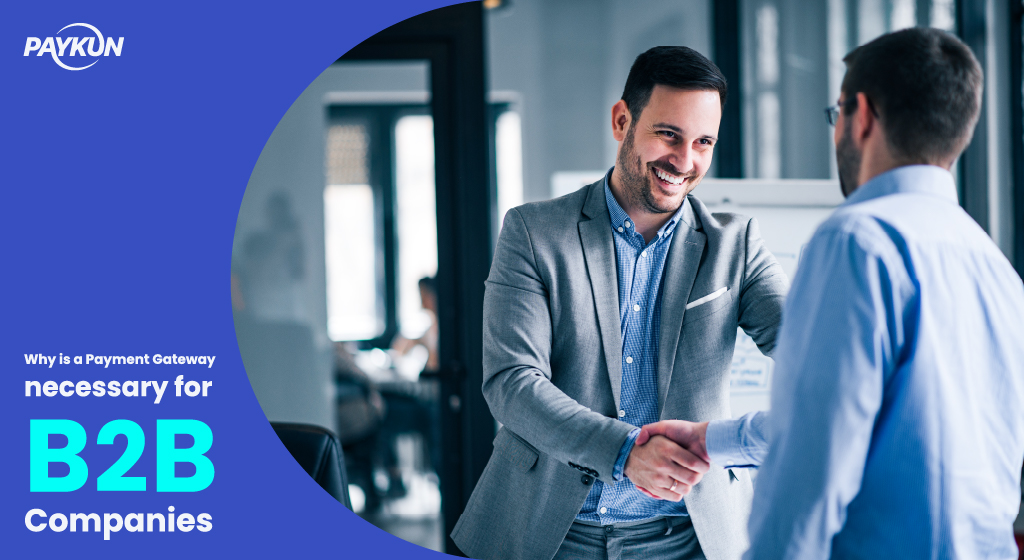 Importance of Payments Gateway for B2B businesses
Minimum ½ of the purchase is searched online by 74% B2B buyers today and 30% finish a minimum of half of the B2B purchases related to work digitally. According to AFP Electronic Payments Survey, 2019, B2B payments with cheque have now fallen by nearly 50 percent since 2004 and it was 81 percent then. Further, as per Deloitte, 2019, it takes B2B payments around 30 days to complete, and the suppliers (on an average 47 percent) are paid late.
It is important for the B2B business to have faster and easier transactions today especially when there are so many better options available. Their payment is in bulk and huge amounts, as well as products or services, are mostly included in the return of the B2B payments. Thus, payment gateways are the most suitable options with regard to this. Also, the clients are searching to have their preferred payment mode to pay and at the same time, they would also expect to have a secured transaction. Thus, the option for a payment gateway is the smartest move to make the B2B payment process the easiest.
As per your B2B business model you need to opt for a B2B payment gateway in India seeking for the various advantages such as –
Multiple online payment method options to your clients such as debit cards, credit cards, mobile wallets, net banking, UPI, etc, and various sub-types in it.
A secured payment system is essential for such business purposes, B2B payment gateways in India with PCI DSS compliance are highly reliable.
Instant transaction status, unlike cheque transactions that have the risk of cheque bounce. With online payments, it is very transparent and also recordable.
Transaction records and instant settlements as per the payout cycle. This can also be tracked and managed with the help of the merchant dashboard provided by the payment gateways.
It is easy to avoid fraudulent transactions for the business as well as the customers because of the strict verification process through the payment gateway and security compliances.
The hassle-free transactions are possible because of the amount of the payment is directly received in your bank account settled by the payment gateway.
PayKun – Suitable for B2B Payments in India
PayKun payment gateway is an easy solution for all the requirements for any B2B payment requirement for domestic as well as international transactions. It charges affordable international fees and the lowest domestic transaction rates (TDR). It provides all the payment method options required and expected by the client.
PayKun can be integrated with the website or the mobile application through all the major supported platforms. And if your business does not use a website or app to collect payments then the payment link and master link feature is also provided by the PayKun payment gateway.
Further, the smart merchant dashboard will help you with all the orders, payments, transactions, clients, order details, settlements, etc. Payment Links can be created through the dashboard itself. There is a dedicated account manager in case any issue is faced with regard to any aspect related to PayKun.