Union Minister for Finance and Corporate Affairs, Smt. Nirmala Sitharaman, while delivering the Union Budget 2021-22, proposed a scheme of whopping ₹ 1500 crores to promote digital transactions.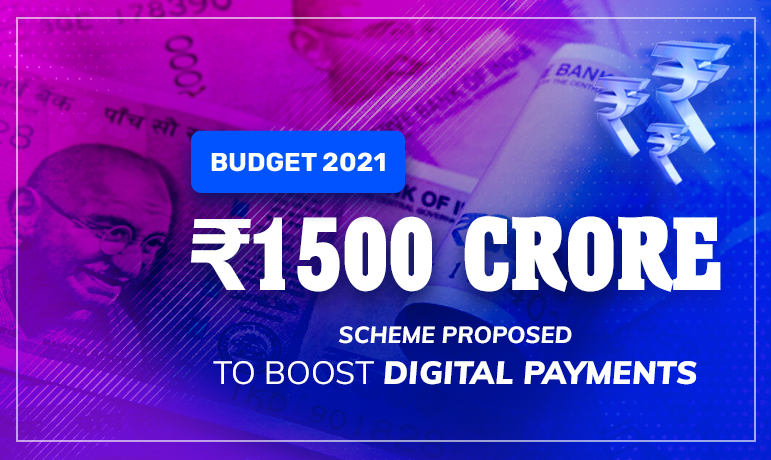 "To give a further boost to digital transactions, I earmark ₹1,500 crore for a proposed scheme that will provide financial incentive to promote a digital mode of payment," said the Finance Minister while delivering the speech.
This clearly highlights the intention to form India a cashless economy by further favoring digital payment in such a prominent manner. This will encourage and support the fintech industry in innovation. It would lead to the increased adoption of digital payment modes.
The Finance Minister conveyed that in recent times there has been a manifold increase in digital payments. It was required to take measures to keep this in force. The proposed scheme will provide a financial incentive to keep the digital transactions in the drive.
To promote Innovation and Research & Development, the FM has announced various proposed actions covering digital payments, the space sector, and deep ocean explorations. These would strengthen the research ecosystem of the nation with recognized national-priority thrust areas at the center.
National Research Foundation Outlay to be Rs 50,000 crore, over 5 years. National Research Foundation (NRF) is expected to launch later this year.
In continuation to announcing the proposed scheme of ₹ 1500 crore, she said, "We have now worked out the modalities and the NRF outlay will be ₹50,000 crore over five years. It will ensure the overall research ecosystem in the country is strengthened with a focus on identified national priority thrust areas,"
Another new initiative is announced – National Language Translation Mission (NTLM). This is to digitize the wealth of Governance-and-Policy related knowledge in major Indian Languages.
The proposed scheme defines the embarking towards a new India. It would help in the expansion of the digital payments ecosystem.
Prime Minister's Statement on Budget 2021-22 backs the vision of self-sufficiency, new opportunities for growth, expanding new possibilities, creating new opportunities for youth; Developing new areas for infrastructure construction, moving towards modernity, bringing new reforms.
Source: Ministry of Finance